I SAW THE DESTRUCTION
OF AMERICA IN A VISION
BIOGRAPHY OF WILLIE FELIX CARTER
THE UNITED STATES OF AMERICA
"ONE NATION UNDER GOD"
Reference Scripture of the consequences of failing to do the right thing
WELCOME TO THE WILLIE CARTER FOR PRESIDENT CAMPAIGN
REBUILDING OUR NATIONíS
ECONOMIC STRENGTH
Click here...THE NECESSARY RESOURCES
We have read of the ruins of nations before us, and we must avoid faults that contributed to their demise. We are a young nation, and hopefully with many good years ahead. We must not forget the sacrifices made by our founders, and their belief in God our Creator, contained in many of their writings. I too share their belief, and that God governs in the affairs of men. Preserving freedom demand's diligence, patriotism, and according to our Founding fathers, a firm reliance upon Divine Protection. If I am elected President, I will take the God fearing approach, addressing the needs of all the people of our nation, the homeless, jobless, the elderly, the business community, moving forward to reduce our national debt, and dependency on foreign resources, fair international trade, maintaining a strong military, strong foreign diplomacy, and stopping the cycle of violence across our nation.
Thank You,
GOD BLESS AMERICA
Willie Felix Carter
Candidate for President 2016
Keeping America Free...
Make no mistake, the cost of Freedom
requires a sacrifice on the part of every American Citizen, and with God's help.

"DOING THE RIGHT THING"
Join Willie Felix Carter in Clive, Iowa
Join Willie Felix Carter at a
Gala Event
Los Angeles, CA
June 20, 2014
Visit Willie Carter 2016 Web store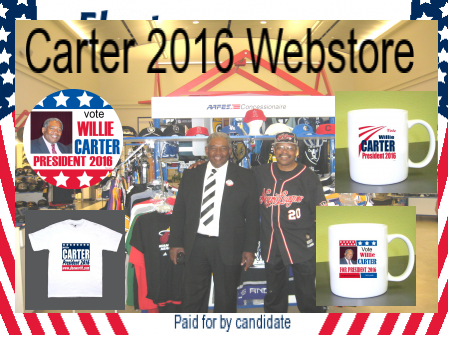 Thanks from Willie Carter

IN GOD WE TRUST
Contact Information
Telephone

562-422-5715

FAX

562-422-5715

Postal address

P.O. Box 3236, Fort Worth, Texas 76113

Electronic mail

General Information: res00yn5@yahoo.com
Webmaster: res00yn5@yahoo.com